Calling for research study participants
tACS Treatment for Depression in Young Adults
This form collects information we will use to contact you to tell you more about our services. You can unsubscribe at any time. Privacy Policy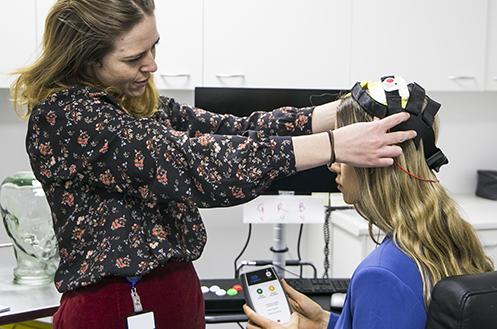 Transcranial Alternating Current Stimulation (tACS) is a gentle, non-invasive brain stimulation technique which delivers a series of small, pulsed, alternating currents to a targeted region of the brain.
These currents have the potential to alter the behavior of the brain that is affected in depression.
Epworth Centre for Innovation in Mental Health
What's involved in the trial?
Initial assessment - A phone interview will be conducted to see if you are suitable for the trial. If suitable, clinical and cognitive assessments will be administered over video-phone. These include questions about your mental health and testing things like your memory. A time will then be organized for you to come into the clinic for an EEG assessment (passive reading of brain activity).
Treatment period - Four weeks, Monday to Friday, you will be asked to apply tACS for 20 minutes up to two times a day.
You can do this at home as tACS can be safely, self-administered. A phone check-in with a study investigator is scheduled every Friday.
Final assessment

- At the end of treatment and one month after the treatment finishes, the clinical, cognitive and EEG assessments will be repeated. You will receive reimbursement at the end of this assessment.
You may be eligible for this study if you:
Have symptoms of/have been diagnosed with depression

Are between 16 to 30 years of age

Do not have a psychotic or neurological disorder such as schizophrenia or an acquired brain injury
This study has been approved by the Monash Health Human Research Ethics Committee