Mild Cognitive Impairment (MCI) Clinical Trials

This form collects information we will use to contact you to tell you more about our services. You can unsubscribe at any time. Privacy Policy
Do you have MCI or memory difficulties?
The Epworth Centre for Innovation in Mental Health (ECIMH) is investigating the effects of non-invasive electrical brain stimulation on brain activity and cognition over time in people who meet criteria for Mild Cognitive Impairment (MCI).
MCI refers to a decline in memory that does not impact on daily functioning.

Men and women, aged 50 - 80 years


Interested in participating
This clinical trial is over a 14 month period. Transcranial Alternating Current Stimulation (tACS) will be self-administered in the comfort of your own home twice over a 14 month period, following comprehensive training by a trained researcher.
Participation will also involve attending our research centre 5-7 times over 14 months. Collectively, these visits will involve interviews, assessments, cognitive activities, questionnaires, as well as recording brain activity and collecting blood for genetic analysis. Where possible, assessments will be conducted remotely.
You will be offered a yearly report on the regular cognitive assessments that you undergo throughout the trial.
tACS is a form of non-invasive electrical stimulation used to alter brain activity. This is done via the placement of two electrodes on the scalp that generate electrical currents which can change the rhythm of brain activity.
You will be randomly selected to receive either:
Active stimulation, or
Placebo (inactive) stimulation
Please feel free to discuss this project with your doctor, family, friends or relatives.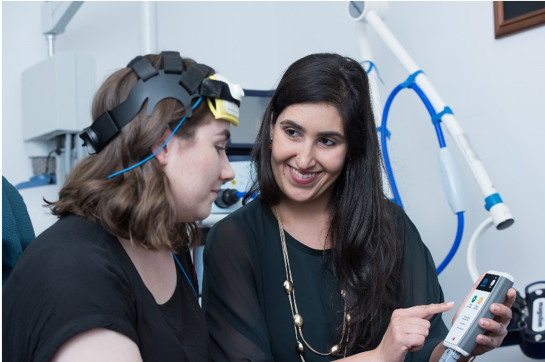 If you'd like to know more, please contact:


The research has been approved by the ethics committee of The Alfred Hospital (Project Number: 274/18)